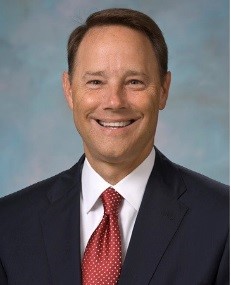 Allen Wright is vice president of Public and Government Affairs at Devon Energy, one of North America's leading independent oil and gas producers. His career spans more than three decades of senior leadership in the public and private sectors, with expertise in stakeholder engagement, reputation development, crisis management and government relations. He oversees teams that build Devon's brand through its relationships with communities and with local, state and federal government entities.
Before joining Devon in 2009, Wright was director, chief operating officer and vice president of public affairs at Koch Industries/Flint Hills Resources, as well as vice president of the Fred and Mary Koch Foundation.
Wright served on the presidential election campaigns of Ronald Reagan in 1984 and George H.W. Bush in 1988. A lifelong Oklahoman, his public service also includes working as an assistant to Gov. Henry Bellmon, administrative aide to Corporation Commissioner J.C. Watts and chief of staff for Congressman Frank Lucas.
Wright has a master's degree in political science from the University of Central Oklahoma and a bachelor's in political science from the University of Oklahoma. In 2013, he was honored as a distinguished alumnus of UCO.
Wright serves on the boards of directors for the United States Chamber of Commerce, Public Affairs Council and the Friends of the Oklahoma History Center. He also serves on the Oklahoma State Chamber of Commerce Executive Committee and the Oklahoma City Chamber Advisory Board and is a member of the Oklahoma City Rotary Club.  Additionally, Wright is a member of the Choctaw Nation and serves as an Elder at First Presbyterian Church of Edmond, Oklahoma.
Wright and his wife of 30 years, Jacque, have two sons: Allen Jr., who works for U.S. Senator James Lankford; and David, who attends the University of Oklahoma. In his spare time, Wright enjoys hunting, golf and OU sports.