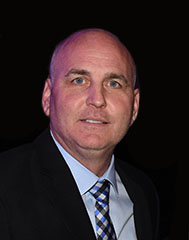 Bill Ripken
Vice Chairman
Bill Ripken is an Emmy Award-winning analyst for the MLB Network, appearing on their signature program, MLB Tonight, and across network programming. This 12-year veteran of Major League Baseball began his career with the Baltimore Orioles in 1987, under the direction of his father, Cal Ripken, Sr., and alongside his brother Cal Ripken, Jr. This was the first and remains the only time in Major League Baseball history that a father simultaneously managed two of his sons. After playing for Baltimore through 1992 and again in 1996, Bill played for Texas (1993-1994 and 1997), Cleveland (1995) and Detroit (1998). In 1988, Bill was second among American League second baseman in double plays turned with 110, and his .9927 fielding percentage in 1992 was the best of any Major League second baseman that season. In 1990, Bill led the Orioles in hitting with a .291 average and was tied for the team lead with 28 doubles.  In the spring of 2002, Bill was honored for his achievements in Major League Baseball with his induction into the Maryland Sports Hall of Fame.
After his playing career, Bill joined his brother in the formation of Ripken Baseball, a company that works to grow baseball at the youth and professional levels. With world-class facilities in Aberdeen, MD; Myrtle Beach, SC; and, Pidgeon Forge, TN; and ownership of the minor league franchise known as the Aberdeen Ironbirds, Bill continues his direct impact on the game he loves.  In 2009, Bill served as coach for Team USA during the World Baseball Classic.  He is a published author, including instructional books with his brother Cal, and in 2018 published the highly acclaimed, State of Play, which breaks down the statistical measures used to judge ball players today in a way that makes sense to the reader and fans alike.
In 2001, Bill and his brother Cal Ripken, Jr. established the Cal Ripken, Sr. Foundation in memory of their father.  Cal, Sr. was a mentor to thousands of young ball players during his career, and while he focused on baseball, was building better and stronger individuals through a series of life lessons now carried on by the teachings of the Cal Ripken, Sr. Foundation.
Bill and his wife, Candace, reside in Fallston, MD and have four children: Miranda, Anna, Reese, and Jack.