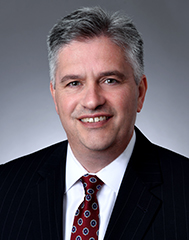 Brian Walter is Group Vice President at M&T Bank. Upon graduating from Penn State's MBA program in 1990, Brian joined The First National Bank of Maryland (predecessor to M&T Bank) as a relationship manager in the Greater Washington Region.  After serving in a variety of roles, he was promoted to Market President of the Chesapeake Region in 2011 and currently manages the Bank's activities in Central, Southern, and Western Maryland.  In 2015, Brian also assumed responsibility for the Bank's commercial business in the Greater Baltimore Region.  
Brian is a graduate of M&T's Leadership Development Program (through Columbia University), has served as a mentor for the Bank's Senior Leadership Development Program, and is a former member of M&T Bank's Diversity Council.  Brian also chairs M&T Bank's charitable contributions committee for its Chesapeake Region.  
Brian is a 2001 graduate of Leadership Howard County, a 2013 graduate of Leadership Anne Arundel, and a 2014 graduate of Leadership Maryland.
In 2010, the National Pike District of the Boy Scouts honored Brian with its "Good Scout Award" in recognition of his community service. 
Brian has served in leadership roles with numerous community organizations, including the following:  
Current
Howard County General Hospital – Board of Directors, Secretary
21st Century Education Foundation - Board of Directors, Treasurer
BWI Business Partnership – Board of Directors
Downtown Partnership of Baltimore – Board of Directors
Historical
Leadership Howard County – Board of Directors, Chair
Howard County Arts Council – Board of Directors, President
American Heart Association – Chair, Howard County Heart Ball
The Community Foundation of Howard County - Board of Directors, Vice Chair