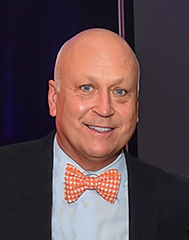 Cal Ripken, Jr.
Vice Chairman
One of the true legends of baseball, Cal Ripken, Jr. began his professional baseball career in 1978, made it to the majors in 1981, and quickly set a new standard for shortstops. Big, strong, and durable, he displayed power at the plate, grace in the field, and unrivaled perseverance. He earned AL Rookie of the Year honors in 1982, won the MVP award in 1983 and 1991, and received a Gold Glove in 1991 and 1992. In 1995, Cal broke Lou Gehrig's major league record for consecutive games played (2,130). The next year, he surpassed Japanese great Sachio Kinugasa's streak of 2,215 straight games. Cal voluntarily ended his streak on September 20, 1998, after playing 2,632 consecutive games. During this 17-year span, Cal amassed 3,184 hits, including 431 home runs. He holds many major league records, including most home runs by a shortstop and highest single season fielding percentage by a shortstop (.996). He retired from baseball in October 2001 after 21 seasons with the Baltimore Orioles.
Inducted into the National Baseball Hall of Fame in 2007 with the third highest voting percentage in history, Cal Ripken, Jr. is baseball's all-time Iron Man. Now Cal is using the platform that baseball has provided him to help grow the game he loves worldwide. Today, he is Chairman and CEO of Ripken Baseball, which owns and operates minor league clubs, world-class youth baseball facilities, a memorabilia company, and a management and design company that builds state-of-the-art athletic complexes. In 2001, Cal and his brother Bill established the Cal Ripken, Sr. Foundation, in memory of their father.
Cal's role as an ambassador for the game was taken to a new level in August 2007, when he was named American Public Diplomacy Envoy by the U.S. State Department. In this role, he has traveled worldwide teaching baseball to children and representing the United States. His most recent trip in 2011 was to Japan, visiting with kids who had been affected by the earthquake and tsunami.
Over the years Cal has also become a best-selling author. His past works include The Only Way I Know, Play Baseball The Ripken Way (with his brother Bill), Parenting Young Athletes The Ripken Way, Get in the Game: Eight Elements of Perseverance that Make the Difference, and The Longest Season, a children's book. His first novel, Hothead, hit bookstores in 2011 and reached #5 on the NY Times Best Seller List. Co-authored with Baltimore Sun columnist Kevin Cowherd, this book was the first in a series of baseball themed novels for middle grade kids. The second book in the series, Super-Sized Slugger, hit the shelves in March 2012.
Cal hosts a weekly radio show on SiriusXM, and serves as a Studio Analyst for TBS Sports during the Major League Baseball playoffs.
Cal resides in Maryland with his wife, Kelly, and has two children, Rachel and Ryan.