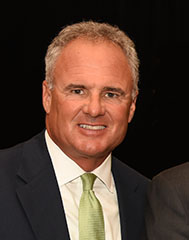 Francis X. (Frank) Kelly III serves as CEO of Kelly & Associates Insurance Group, Kelly & Associates Financial Services (KELLY Payroll/KELLY Work Comp), KELLY Exchange Services, and KELLY Integral Solutions – collectively known as KELLY.
As a group insurance administrator, broker, and consultant specializing in health care, KELLY has been recognized as the largest employee benefits administrator in Maryland and one of the largest in the Mid-Atlantic region. KELLY has also developed an integrated payroll (KELLY Payroll) and workers' compensation insurance (KELLY Work Comp) solution that is growing rapidly. Since Frank was named President in 1994, KELLY has grown from a corporate client base of 1,000 to more than 10,000. Annualized premiums and payroll administered and under management have risen from $20 million to over $4 billion.
A long-time board member and past president of both the Baltimore Association of Health Underwriters (BAHU) and the Maryland Association of Health Underwriters (MAHU), Frank III has earned professional designations as a Registered Employee Benefit Consultant (REBC), Registered Health Underwriter (RHU), Health Insurance Associate (HIA), Life Underwriting Training Council Fellow (LUTCF), and Chartered Life Underwriter (CLU). Frank was honored as the BAHU person of the year in 2001 and inducted into the MAHU Hall of Fame in May 2012.
Frank obtained his insurance license in 1984 while still in college and worked at the company in telephone sales during the summer months. Two years later, after graduating from college, he became an account executive for small businesses in trade associations. In 1988, Frank was named Sales Manager and then in 1989, Vice President of Sales for the company. When he was promoted to Executive Vice President in 1991, he assumed responsibility for overall marketing and all operations of the company. In 1994, Frank was named President of KELLY; in 2007, he was named CEO.
Outside the office, Frank has been involved in many community and civic activities. He is past Chairman of the Board of the Baltimore County Chamber of Commerce, where he served as a Board member from 2001-2009. He was on the Baltimore County Department of Social Services Board for many years and served as its Chairman from 2003-2005. Frank also served as Chairman of the Maryland Fellowship of Christian Athletes (FCA), and FCA Lacrosse Leadership Boards for nearly 20 years and served on the FCA National Board of Trustees from 1997 to 2003 and 2014 to present. Frank was inducted into the national FCA Hall of Champions in 2013 and the FCA Ring of Honor in 2016.
Frank also serves or has served on the Boards of Calvert Hall College High School, Calvert School, The US Lacrosse Foundation, The Maryland Zoo in Baltimore, The Living Classrooms Foundation, The Cal Ripken Sr. Foundation, The Greater Baltimore Committee and the World Vision Leadership Council. Frank was elected into his alma mater, Calvert Hall College High School, Hall of Fame in 2013. Frank was appointed to the Governor's Workforce Investment Board in 2015.
A 1986 graduate of Cornell University with a degree in Business Management, Frank was recognized as a Red Key Scholar Athlete, played football and captained the lacrosse team, where he was an All-Ivy League selection. His interest in lacrosse continued after college with several seasons of professional box lacrosse for the Baltimore Thunder of the Major Indoor Lacrosse League and many years with The Maryland Lacrosse Club, where he was an All-Club Selection.
Frank was an assistant football and lacrosse coach for many years at Calvert Hall College High School in Towson, MD and has coached youth teams in soccer, football, basketball, baseball, and lacrosse. Frank and his wife, Gayle, have been blessed with four children, Frankie, Stephen, Jacqueline Lee, and Joseph Kim. They live in Lutherville, Maryland.