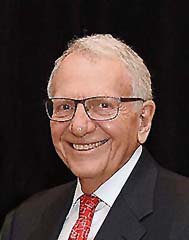 Jay Baker
Immediate Past Board Chairman
Jay Baker studied management and marketing as an undergraduate, at the Wharton School, at the University of Pennsylvania, and graduated in 1956.
From 1956 to 1958 he served in the U.S. Army, becoming a sharpshooter.
In 1959, Baker got his start in retail through the Macy's Training Program. He worked his way up through a number of buying and management positions at retailers such as Macy's, Ohrbach's, and Famous Barr. From 1977 to 1886, Baker worked for BATUS Retail in various positions at Sak's Fifth Avenue, as President and Chairman of Thimbles, and later as the Chairman for the corporate buying office of BATUS Retail.
In 1986, he became the new President of Kohl's, working with the CEO, William Kellogg, and Executive Vice President, John Herma. Along with outside investors, Baker led a management buyout of Kohl's from BATUS. He was the lead merchant, and under his leadership, the company grew from 40 stores, to 350 stores, with the revenue growing from $280 million, into a $6 billion plus corporation before he retired in 2000.
Baker strongly believes in education and in the future of the retail industry. Soon after his retirement, he became very involved with FIT, the Fashion Institute of Technology in New York City. He and his wife Patty gave FIT a generous gift, which has helped to build new buildings, renovate existing space, and provide 40 scholarships a year. In appreciation, FIT named its business school the Patty and Jay Baker School of Business and Technology and presented Baker with an honorary doctorate. He serves on FIT's Board of Trustees and is also the Chairman of the Educational Foundation.
At his alma mater, the Wharton School, Baker started what has become the Jay H. Baker Retailing Center, where he is the Chairman. The BRC will support curriculum development, industry outreach and cutting-edge research, for both graduate and undergraduate students. Baker and his wife Patty provide scholarships to The Baker's Dozen, 13 deserving students from around the world for undergraduate work at the University of Pennsylvania and the Wharton School.
In addition to the Cal Ripken, Sr. Foundation and FIT, Baker serves on many boards, including the Wharton Overseers Board at the University of Pennsylvania, the Naples Philharmonic, and the Naples Community Hospital, and The Patty & Jay Baker Naples Museum of Art, for which he serves as the Chairman.
His family consists of his loving and charming wife, Patty, his son, Stephen; daughter-in-law, Dr. Nadine Chang; his daughter Stephanie Ribera; son-in-law Chris, and grand-children, Jay, Jessie, Zoe, Micah, and Maya. Kismet is their adorable four-legged daughter.
Baker has many passions, which include collecting baseball memorabilia, watching the New York Yankees, the NY Jets, traveling, and art. He also enjoys reading, movies, theater, music, walking, and working out and problem-solving.