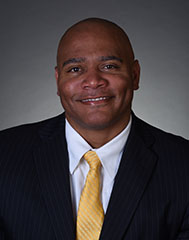 Jermaine Swafford has been a CSX employee since 1998, and now holds the position Vice President of Regional Transportation-Northern Region.
Swafford began his CSX career as an assistant trainmaster. Over the next few years, he was assigned to trainmaster positions across the company's rail network. By 2002, he was promoted to the CSX management ranks, assuming a management position in the company's Locomotive Distribution Center in Jacksonville, Fla.
Within a year, Swafford was again promoted. He was named terminal manager at CSX's Augusta, Ga., terminal in 2003, then terminal manager at Richmond, Va., in 2004. In successive years, he rose through a series of positions of greater responsibility. He became terminal superintendent at the company's Jacksonville, Fla., facility in 2005. Following a period from 2006 when he served as an assistant division manager based in Cincinnati, Ohio, Swafford was appointed division manager of CSX's Florence Division in 2009 and division manager of the Atlanta Division in 2012. Under his leadership there, the significant improvement in the division's operating metrics led to the division being awarded the company's annual Service Excellence Pinnacle Award, which recognizes customer-centric focus and superior operating metrics.
In 2016, Swafford was named to his current position, where he oversees all operations across the company's Northern Region. Swafford holds a bachelor's degree from Marshall University in West Virginia, where he was also an all­ American linebacker for the university's Thundering Herd football team. He lives in Jacksonville with his wife and three children.