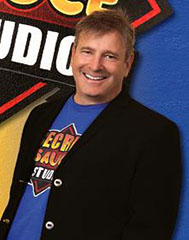 Joe Kaminkow is the preeminent game designer of his generation with an unparalleled portfolio of successful slot machines, pinball machines, video games and novelty games.  His products regularly set industry revenue records and he has received countless game design awards and chart topping games.
Kaminkow is a member of the Pinball Hall of Fame and co-founder of Data East / Stern pinball and he was named one of the "Top 10 Most Influential People in the History of Slots" by Strictly Slots magazine.  He is a named inventor on 130 patents throughout the fields of game design, operations and networks. Joe has over 1,500 games in the various coin op, slot machine and social game market the he has designed or contributed game design intellectual property.
In addition to his current role as Chief Game Designer of Zynga – Chicago and founder of Spooky Cool Labs, Kaminkow is also the Senior Vice President of Game Development for Aristocrat Technologies, one of the world's largest casino game manufacturers.