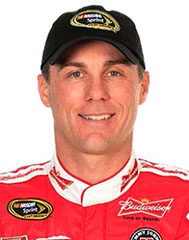 Celebrated American NASCAR driver, Kevin Michael Harvick, drives the No. 4 Budweiser/Jimmy John's Chevrolet SS for Stewart Haas Racing in the Sprint Cup Series. Harvick is the former owner of Kevin Harvick Incorporated, a race team that ran in the Nationwide Series and the Camping World Truck Series between 2004 and 2011.

Harvick started his fast-paced career in kart racing, after his parents bought him a go-kart as a kindergarten graduation gift in 1980. Over the next decade Harvick achieved considerable success on the go-cart racing circuit, earning seven national championships and two Grand National championships. 

On October 23, 1999, Harvick made his first NASCAR Busch Series (now Nationwide Series) start in the Kmart 200 at the Rockingham Speedway in the #2 Invica Chevrolet. In 2000, Harvick signed with Richard Childress Racing to drive the #2 AC Delco Chevrolet for his first full Busch Series season. Nicknamed "Happy Harvick," he became the first driver in NASCAR history to run full time on both the Nationwide and Sprint Cup circuits – a total of 70 races – in one season, and the first to be named Sprint Cup Rookie of the Year the same season that he earned the Nationwide Series championship.

Since his start in NASCAR's premier racing series 10 years ago, Harvick has had many memorable career moments. He is currently one of only 20 drivers who have won a race in each of the National Series (Truck, Nationwide and Sprint Cup). But after 13 years and his 15th career Sprint Cup race at Auto Club Speedway , on July 12, 2013, Harvick agreed to drive for Stewart-Haas Racing. He retained Budweiser as his primary sponsor for 21 races, with Jimmy John's sponsoring the remaining races.

Harvick's impact can also be felt off the speedway. In 2010, Harvick and his wife, DeLana, established the Kevin Harvick Foundation (KHF) to support programs that enrich the lives of children throughout the United States. The foundation works to not only improve the quality of life, but to help underprivileged youth find and realize their dreams by supporting programs such as the Kevin Harvick Athletic Scholarship Fund at California State University, Bakersfield, a camper cabin at Victory Junction, Baptist Children's Homes of NC, Boys & Girls Clubs and Kevin's Krew.

Kevin Harvick and his wife live in Kernersville, North Carolina with their son.