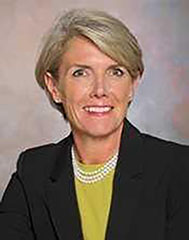 Mary-Beth A. Cooper, PhD, DM, became the 13th president of Springfield College in August 2013, bringing to the College her experiences from a long and distinguished career in higher education administration and community service and leadership.
With her leadership, Springfield College has experienced a rededication to the community service and civic engagement for which it is so well known, and has committed itself to building an inclusive campus that encourages engaged and diverse populations. She has fostered an internal environment that reflects shared governance among its faculty, staff, and students, and an external environment that is safe and welcoming for the College community and its city neighbors.
She has created a strategic vision to build an institution that provides a student-centric experience, most recently embarking on a campaign to create an innovative learning commons that will bring together technology and library services to create a full service learning, research, and project space for our students. This common-space approach reflects a pedagogical shift toward cooperative teamwork and collaborative media that benefits the entire learning community.
Her vision for an inclusive campus encourages pluralism, engaged and diverse populations and thought. She has fostered shared governance and use of the Study Circle method of collaborative and democratic decision making among faculty, staff, and students; undertaken a new and innovative approach to enrollment management and institutional branding; and built a leadership team that reflects the needs of the student body and the integrity of the institution.
Cooper earned a Bachelor of Arts from the University of Delaware, a Master of Education from the University of Georgia, a Master of Business Administration from the University of Rochester, a Doctor of Philosophy in education administration from Michigan State University, and a Doctor of Management from Case Western Reserve University. She previously served as senior vice president for student affairs at the Rochester (N.Y.) Institute of Technology (RIT) and as chair of the YMCA of Greater Rochester Board of Directors. Cooper co-led the RIT President's Commission on Women to improve the campus climate for women, is a past recipient of the RIT Four Presidents Distinguished Public Service Award, and was named one of Rochester's most influential women by the Rochester Business Journal.
Known for her volunteer leadership, Cooper has been named to the National Association of Independent Colleges and Universities (NAICU) Committee on Policy Analysis and Public Relations, as well as the Board of Trustees of the Council for Adult and Experiential Learning (CAEL). She serves on the Boards of the Association of Independent Colleges and Universities in Massachusetts (AICUM), the Community Foundation of Western Massachusetts, Springfield Museums, Naismith Memorial Basketball Hall of Fame, and Willie Ross School for the Deaf. She is a member of the Economic Development Council of Western Massachusetts; and serves on the Steering Committee for the FutureCity Economic Development Strategy initiative for the City of Springfield as well as on the Leadership Advisory Committee for Reading Success by the 4th Grade.
The guiding forces in Cooper's career have been her vision for human potential and education as the answer to creating flourishing communities, as well as her own yearning for intellectual stimulation. She takes seriously her role as a mentor to and advocate for students, women, and athletes.
Cooper has conducted myriad professional presentations in a wide variety of venues, and she is frequently sought to serve as a consultant in her field. She has given numerous presentations on campus security and personal safety, management trends in higher education, time management skills, and women's issues.
A competitive runner, Cooper lives on the Springfield campus with her husband, David, and their chocolate lab, Jack. They have one son, Calvin.