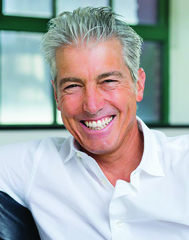 FOUNDER & CEO
Givewith

Over his 30-year career as a social entrepreneur, Paul has dedicated himself to developing, refining, and realizing the vision at the heart of Givewith: that by prioritizing social impact, businesses can deliver a sustainable source of funding for the critical work of nonprofits and differentiate themselves from the competition, driving sales, increasing profits and raising share prices.
Paul proved his theory with EcoMedia, the company he founded in 2001 and sold to CBS in 2010. To date, EcoMedia has directed more than $100 million in funding and resources to environmental, education and community health and wellness programs across the country, improving the quality of life for nearly 60 million people. By successfully differentiating CBS in the competitive, crowded advertising marketplace, EcoMedia's social impact offering continues to achieve enormous sales success. 

Paul launched Givewith in 2016, scaling his model far beyond the American media and advertising sectors. Givewith—a social impact technology platform that can be applied to any and every transaction between seller and buyer—unleashes the intrinsic power of commerce as an engine of world-wide social change. It's a radical paradigm shift that's transforming the way both business and philanthropy are done, but Paul has remained true to the core mission and principles that first motivated him to dip his toes into the waters of social entrepreneurship. That was in 1989 when, as an avid surfer distressed by the pollution plaguing his hometown waters—the Santa Monica Bay in Southern California—Paul pioneered technology to remove toxins from run-off before it entered the storm drain system and ultimately, the Bay. 

Paul has been honored with numerous recognitions for his work, including the Santa Monica Baykeeper's and the Waterkeeper Alliance's "Keeper Award" (2001); Coastal Living Magazine's "Leadership Award" (2003); the US Conference of Mayors Award for Excellence in Public Private Partnerships (2009); back-to- back Edison Awards for Social Innovation and Social Impact (2012, 2013); and the Starlight Children's Foundation's "General H. Norman Schwarzkopf Leadership Award" (2014). He has been named an "Environmental Hero" by US EPA, a "Public-Private Visionary" by Vanity Fair magazine, and "Social Good Leader of the Year" by Cynopsis Media. 

A frequent guest lecturer at business schools across the country, Paul is a Senior Fellow at the University of Southern California's Marshall School of Business, where he was also an inaugural member of the Board of Advisors for the Brittingham Social Enterprise Lab.