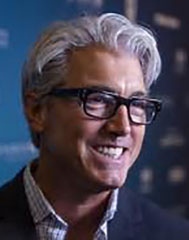 Paul Polizzotto's career in social enterprise began in 1989 with his first venture, the industrial/environmental cleaning company Property Prep. A lifelong surfer, Paul melded his passion for the ocean with his talent for entrepreneurship and pioneered Urban Watershed Cleaning and Zero Discharge, two technologies which scrub toxins from parking lots and industrial sites, thus preventing run-off from entering storm drain systems and polluting the waters into which they feed.
As President of EcoMedia – the company he founded in 2002 which was acquired by CBS in 2010 – Paul created and oversees the EcoAd, WellnessAd, and EducationAd programs. The EcoAd program was an Edison Award winner in 2012 for Social Innovation and the EducationAd and WellnessAd programs were 2013 winners for Social Impact. In October 2014, EcoMedia received Starlight Children's Foundation's "General H. Norman Schwarzkopf Leadership Award," which honors individual and organizational leaders who are doing extraordinary work to advance the common good and strengthen their communities.
Paul received the EPA's "Environmental Hero" recognition (1999), Santa Monica Baykeeper's and Waterkeeper Alliance's "Keeper Award" (2002), and Coastal Living's Leadership Award (2003). Vanity Fair named him a Public-Private Visionary in 2006 and in 2009, EcoMedia received the U.S. Conference of Mayors' Excellence in Public/Private Partnerships.
Paul serves on the Board of Directors at Publicolor, the Board of Advisors at Waterkeeper Alliance, and is a Grades of Green Board Member. He is a frequent guest lecturer at business schools throughout the country, including USC's Marshall School of Business, where he is a Senior Fellow as well as an inaugural member of the Board of Advisors for the Society and Business Lab.