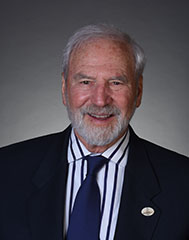 Roger Ralph spent 32 years in the fitness industry.  He and his wife Elaine founded the Bel Air Athletic Club in Harford County, Maryland in 1980 growing it from a 20,000 sq. ft racquetball club on one acre to a 120,000 sf multi-purpose athletic club on eight. Bel Air became an industry model for multipurpose, multi-generational, family, and community- oriented health clubs.  It was rated by the health club industry's association (IHRSA) as one of the top five health clubs in the United States.    
After selling the Bel Air Athletic Club in 2000, Roger assisted Cal Ripken, Jr. with his business interests and growing the Cal Ripken, Sr. Foundation after Cal ended his professional baseball career.  In 2003 Ralph returned to the health club industry as a co-developer and co- owner of the Hockessin Athletic Club in Delaware. Roger sold his interest in the Hockessin Athletic Club to his partner in 2012 and retired. 
He has remained active as a volunteer with the Boys & Girls Clubs of Sarasota & Desoto Counties and a member of the Board of an expanding Boys & Girls Clubs of Metropolitan Baltimore.
Prior to entering the health club industry, Roger worked for the Office of Economic Opportunity with Job Corp, the Small Business Administration's Task Force on Minority Franchising, Booz, Allen & Hamilton as a management consultant.  Prior to entering the fitness industry, Roger was Vice President of Human Services for the Columbia Association in the new town of Columbia, Maryland.  He considers its founder, James Rouse, an important role model and mentor.
Roger and his wife Elaine have been recognized by Ernst and Young as an Entrepreneur of the Year in the State of Maryland. Roger has served on the boards of IHRSA, the Family Life Center, Harford Community College Foundation, The Experiment in International Living, The Columbia Foundation, the Boys & Girls Club of Harford County, the Maryland Mentoring Partnership, and Big Brothers Big Sisters of the Greater Chesapeake.
He is a graduate of Middlebury College, holds a Masters' degree from Columbia University, and was a Loeb Fellow at Harvard University. 
He and his wife Elaine have three grown children and six grandchildren.