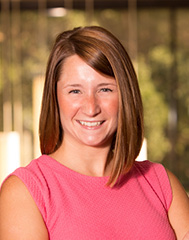 Sara L. Ball serves as Senior Program Manager of Social Responsibility at UnitedHealthcare. In this role, Sara is responsible for a portfolio of national corporate philanthropic grant-making efforts and employee volunteer programs that are focused on addressing basic access to care and the social determinants of health for underserved communities. Prior to this role, Sara served as Executive Assistant for the Chief Executive Officer of UnitedHealthcare's Medicare business. She is also the company's National and Global coordinator for the Alzheimer's Association's Walk to End Alzheimer's and Longest Day initiatives. 
Prior to joining UnitedHealthcare, Sara worked for Augustana Care Corporation, a Minneapolis-based leader of services for older adults, where she served as Assistant Director of Sales and Marketing for their specialty memory care housing facilities. 
Sara's personal passion for supporting seniors diagnosed with Alzheimer's or other dementias has led her to more than ten years of volunteer service with the Alzheimer's Association MN-ND Chapter in various capacities, including chair of the Twin Cities Walk to End Alzheimer's and member of the strategy & development sub-committee of the Board of Directors.