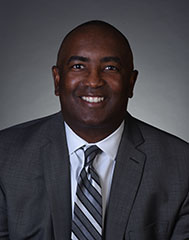 In his role as Chief Baseball Development Officer, Reagins oversees the growth of youth and amateur levels of the sport, both domestically and internationally. Reagins, who joined the Commissioner's Office in March 2015, also is responsible for the operations of the Arizona Fall League.
His department emphasizes strengthening participation levels of baseball and softball, both at the grassroots and the development stages. This approach includes the continued growth of the "PLAY BALL" initiative, which launched in June 2015 and now includes multilateral partnerships with USA Baseball, USA Softball, the U.S. Conference of Mayors and Little League International. Since the launch of PLAY BALL, participation in baseball has grown by +20% overall and +55% in casual forms of the game. In 2019, baseball and softball combined to rank as the most participated team sports in the U.S. with 25.1 million participants for the fourth consecutive year (source: SFIA).
Reagins also leads the proliferation of the "Breakthrough Series" amateur development camps – which now cover boys baseball, girls baseball, and softball – as well as additional programs such as Reviving Baseball in Inner Cities (RBI), MLB Youth Academies, the Hank Aaron Invitational, Elite Development Invitational, DREAM Series, and the Andre Dawson Classic.
Prior to joining the Commissioner's Office, Reagins held several key roles with the Los Angeles Angels. His unique career path began with a dual internship in marketing & advertising sales and baseball operations before transitioning full-time to the baseball side. He served as the team's Director of Player Development and then became the fifth Black General Manager in baseball history in 2007. As General Manager of the Angels, Reagins amassed a record of 363-285 (.560), averaging nearly 91 wins per season. His highlights included consecutive American League West crowns in 2008-09 and the Club's first 100-win season in franchise history in '08, which resulted in Reagins being named the Rube Foster American League Executive of the Year. Reagins is a native of Indio, California and graduated from California State University, Fullerton in 1991.