The Ripken Foundation teamed up with Group 1001 and their amazing volunteers to renovate Arsenal Tech High School in Indianapolis, IN. Over the course of two days, renovations were made to the school's fitness spaces, athletic trainer's room, meeting and media room, and the culinary arts wing. 
According to the Director of Athletics for Indianapolis Public Schools (IPS) Darren Thomas, these upgrades to the school were necessary, and not just for the athletics program. "When you think about fitness, preparation for athletics, the weight room is a key component to that and beyond athletics for our wellness program," Thomas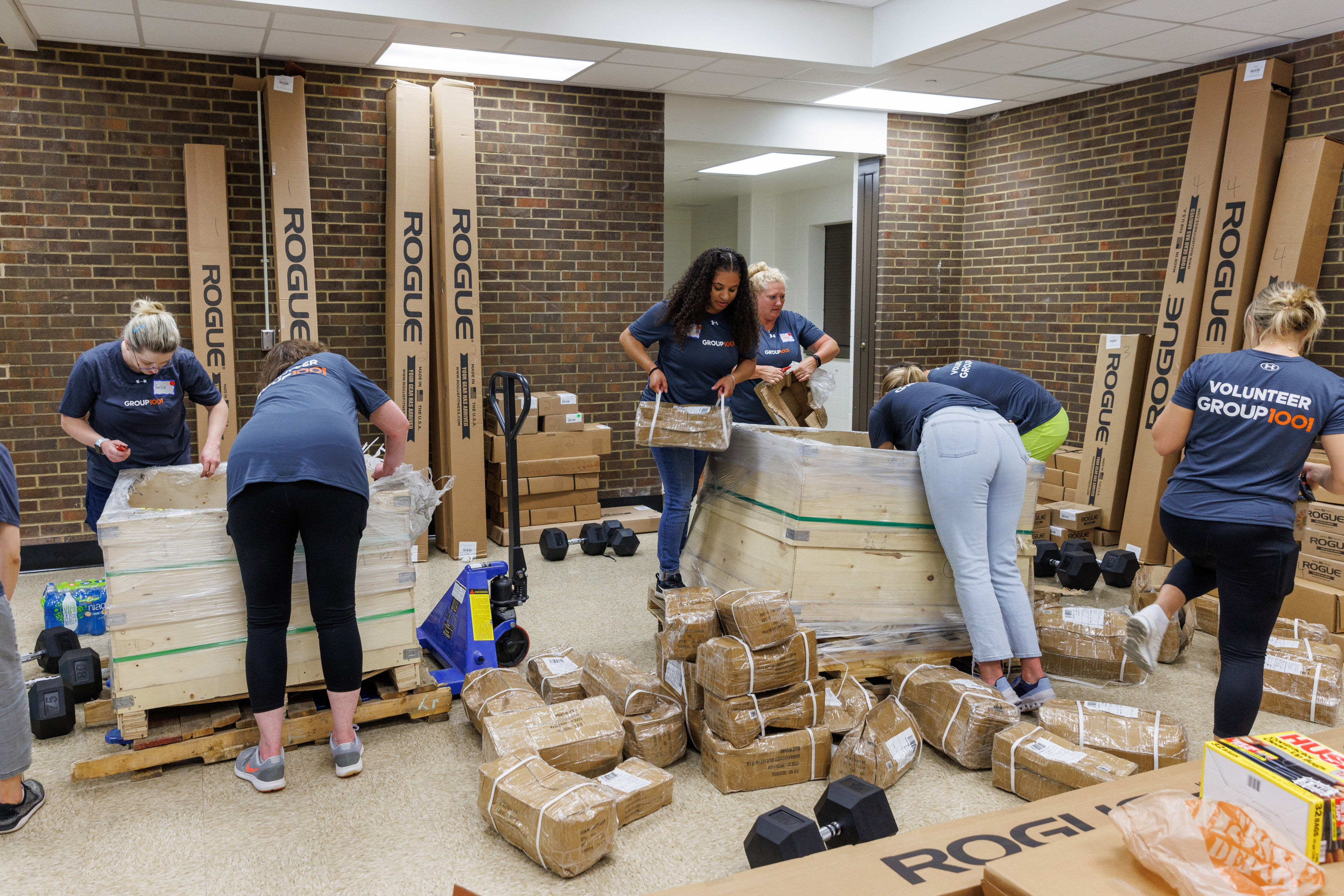 said. "We want to have a good weight room for kids to have weight training classes, even if they're not in sports," said Thomas. 
Volunteers worked to renovate the main fitness space and upgrade the athletic locker rooms on Project Day. The following day, volunteers constructed the culinary arts area and participated in healthy meal prep activities, which volunteers got to enjoy to celebrate the completion of the renovations.
Ripken Foundation President and CEO Steve Salem expressed his gratitude for the partnership between the Foundation and Group 1001. "The collaboration between the Cal Ripken, Sr. Foundation and Group 1001 has been truly inspiring. Together, we have been able to create an environment that fosters growth, opportunity, and a brighter future for the students at Arsenal Tech High School," said Salem.
Group 1001 President and CEO Dan Towriss echoed this sentiment, stating, "At Group 1001, we are deeply committed to making a positive impact in the communities where we live and work. Through our partnership with the Cal Ripken, Sr. Foundation, we are honored to have contributed to the revitalization of Arsenal Tech High School, providing students with enhanced facilities that will empower their educational journey."
Administration and staff at the school were very appreciative of their newly transformed facilities and the opportunities these upgrades can bring to the students. "We are immensely grateful for the support of the Cal Ripken, Sr. Foundation and Group 1001. The enhanced facilities will undoubtedly inspire our students to excel academically and athletically, creating a positive learning environment for all," said JR Shelt, Principal at Arsenal Tech High School.
Read more about this project from WTHR here. To learn more about our Community Enhancement Project initiative, click here.