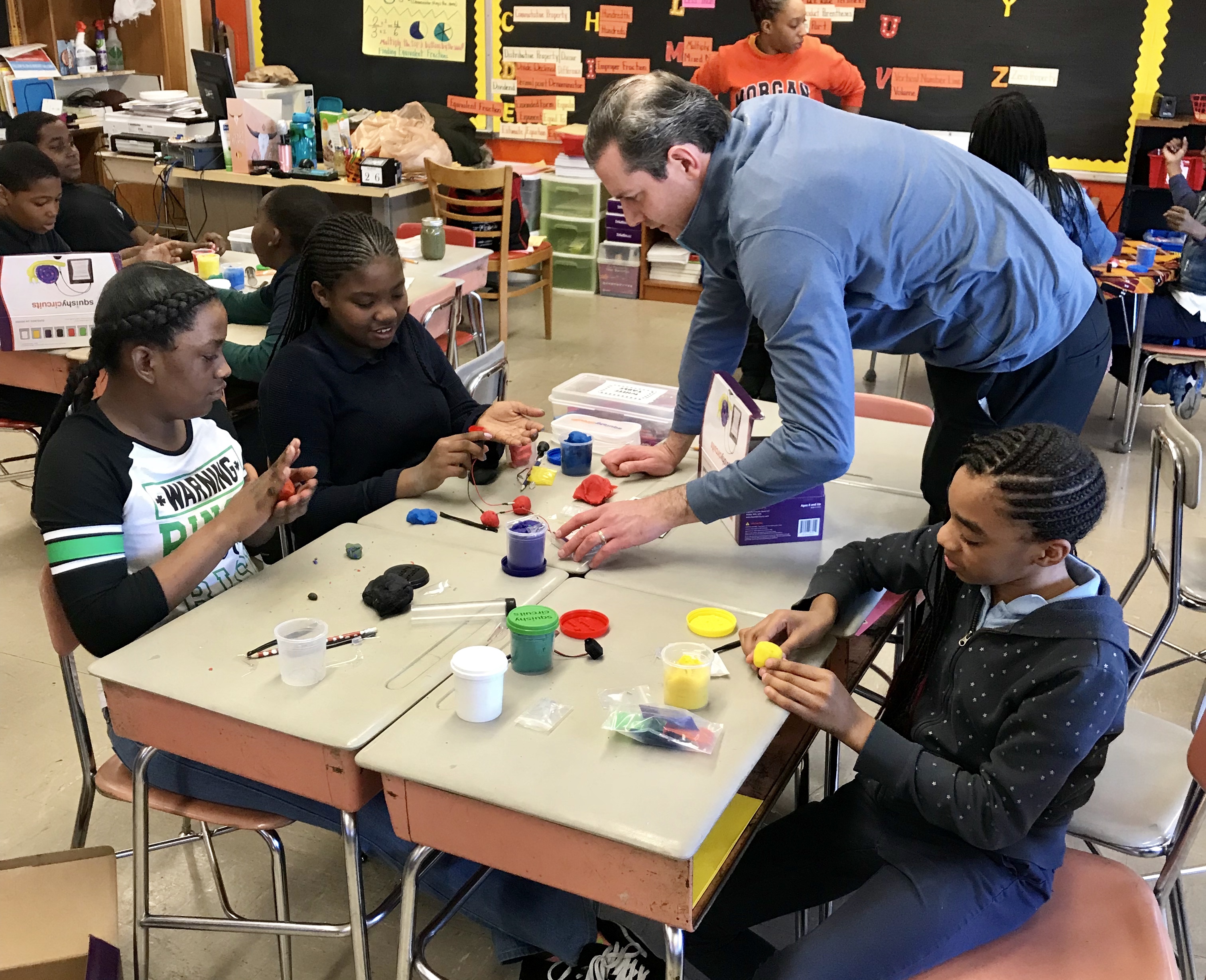 OKLAHOMA CITY (Aug. 28, 2019) — A new era dawned for Oklahoma City Public Schools (OKCPS) Tuesday with a celebration of 33 high-tech STEM Centers.
A partnership between the district, The Foundation for OKCPS and the Cal Ripken, Sr. Foundation placed a STEM Center at all 33 elementary schools. Baseball Hall of Famer Cal Ripken, Jr. joined business and community leaders in Oklahoma City to commemorate one of the largest trade-ups in district history.
Each STEM Center requires a $30,000 investment. Organizations which have committed funds include Amazon, American Fidelity Foundation, Ascent Resources, BancFirst, Bank of America, BlueCross BlueShield of Oklahoma, Boeing, Chesapeake Energy, Cox, Devon Energy, Dr. Subha Varahan, FSB Architects, Glenna and Dick Tanenbaum, the Inasmuch Foundation, Kimray, Love's Travel Stops, the Oklahoma Energy Resources Board (OERB), the Oklahoma City Thunder, Reign Capital Holdings LLC, Terry McGhee and Tinker Air Force Base.
Backed by those community partners' investments, the Ripken Foundation provided hands-on tools like 3D printers, furniture, supplies and products such as Snap Circuits and Ozobots. The group also offers STEM coordinator training, curriculum guidebooks and activity kits to enhance the technology tools.
"Our foundation aims to provide kids with safe places to play, learn, and grow – teamwork and technology each play an important role in that mission," said Cal Ripken, Jr. "Thanks to the support of so many local partners, we are excited to be able to provide positive educational tools for success to the children of Oklahoma City."
This is the first time the Ripken Foundation has provided STEM Centers across an entire school district. In addition to the 33 OKCPS centers, the Ripken Foundation will have a total of 54 STEM Centers operating across the country this fall.  
The initiative was made possible because of the leadership of community partners like Oklahoma's oil and natural gas industry, which pledged $300,000 through the OERB to support 10 STEM Centers.
OERB Chairman Mike McDonald said the group and its members see tremendous value in STEM education.
"Education is the key to developing our workforce, as well as providing a great life for our community's children," McDonald said. "The energy industry is deeply committed to STEM education with the hope that our efforts will inspire and equip students from all backgrounds to become future scientists and engineers."
OKCPS Superintendent Dr. Sean McDaniel said the celebration was a huge step forward for the district.
"When we announced the Pathway to Greatness initiative to re-align district resources, we promised to provide equity for our students, no matter what school they attend. These rooms are a visible sign of what we can do when our community comes together," he said. "Placing a STEM Center in each elementary school exposes students to technical fields from an early age and influences them to always use their curiosity and ingenuity."
For more stories from local news, please visit the following links: Velocity Oklahoma City, Interview with Cal Ripken, Jr. on WWLS, Oklahoma's News 4, Fox 25 Oklahoma City, The City Sentinel.
-
About The Foundation for Oklahoma City Public Schools
Created in 1984, The Foundation for Oklahoma City Public Schools is a nonprofit organization with a mission to advance excellence, create champions and build strong community support for lasting success in Oklahoma City Public Schools. The Foundation works closely with the District and business community to align strategies and priorities for sustained performance improvement. Please visit us online at www.okckids.com for more information on our focus areas and volunteer and giving opportunities.