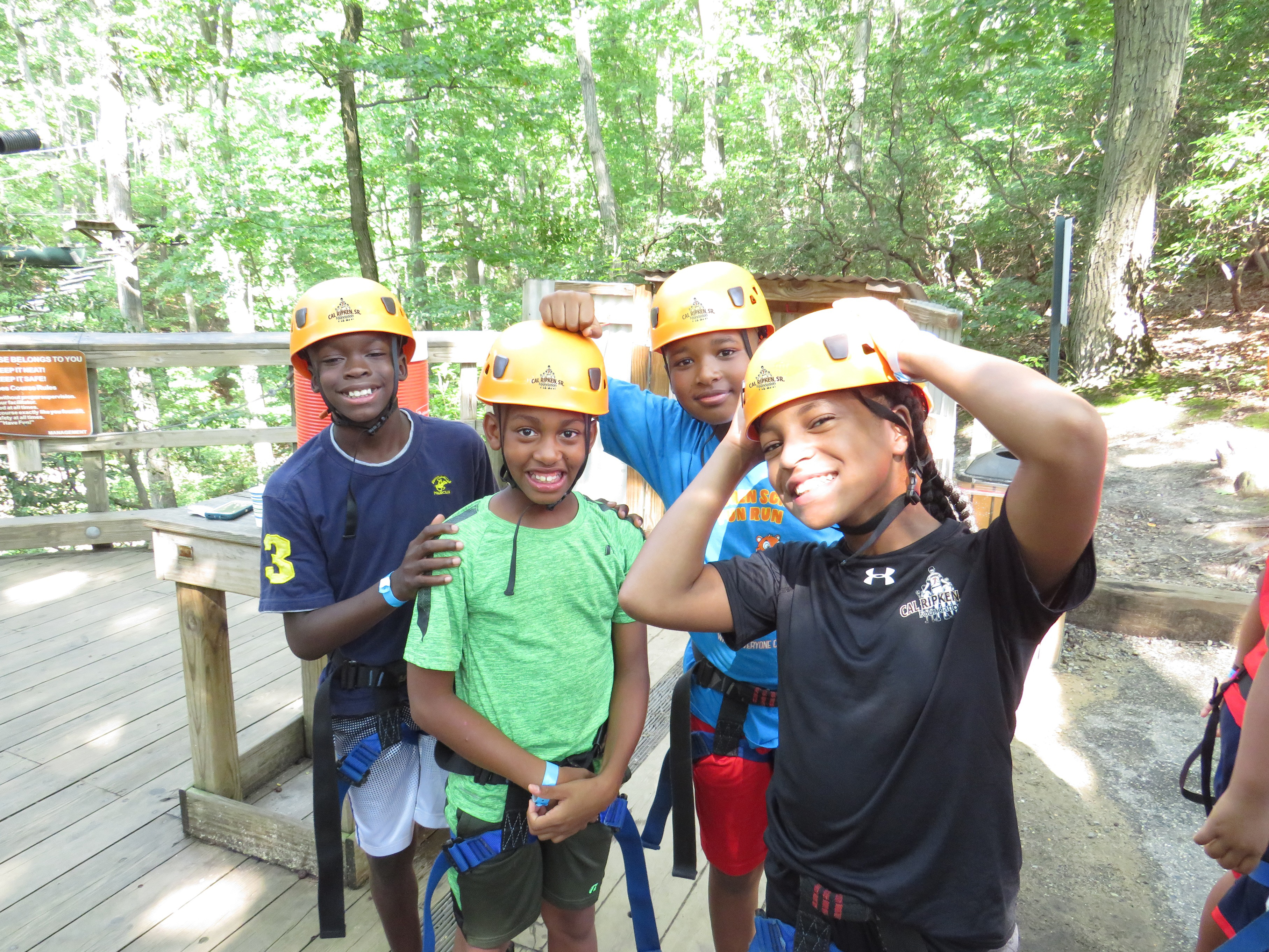 The Cal Ripken, Sr. Foundation's Ripken Summer Camp is the capstone experience of the Badges for Baseball program. When fully implemented, Badges for Baseball is a multifaceted mentoring program that teaches important life lessons to at-risk youth including teamwork, communication, respect, and personal responsibility. We use sports-themed programs to bring police officers, youth mentors, and underserved kids ages 9 to 14 together on a level playing field. Our youth-serving partners select deserving kids from across the country to come to Aberdeen, Maryland for an all-expenses paid, weeklong camp. During their experience, they learn baseball The Ripken Way while simultaneously being exposed to life lessons that will help them continue on the path to success. These lessons are integrated into all activities including baseball and softball skills stations, ropes courses, team building games, and special presentations.
Upon arrival, all kids are provided with everything they need to be a major leaguer for the week; including brand new uniforms, baseball gloves, and backpacks. Throughout the week, campers take part in a number of instructional stations where they learn the basic fundamentals of being a baseball or softball player. Although it is characterized as a baseball camp, the lessons learned expand far beyond the field. Keeping with the theme of Badges for Baseball, the campers are coached by a variety of law enforcement mentors including the United States Marshals and Maryland State Police throughout the entire camp week. These same mentors perform demonstrations for campers to introduce their agencies and careers in law enforcement. Previous demonstrations included K9 Units, equipment and vehicle show-and-tell, and the landing of a Blackhawk helicopter.
Campers participate in a variety of ropes courses and team building activities throughout the week. Each activity requires campers to practice implementing the life skills they have learned such as teamwork, communication, and leadership. Each night, campers engage in a camp-wide discussion where they are asked to reflect on the lessons learned and to think about how they can take these lessons back to their communities to make a positive impact.
If you'd like to help send a kid to Ripken Summer Camp in one of our sessions in June or August of this year, head to our Donate Now page, and select "Help Send a Kid to Camp" from our Giving Options drop down menu. Your contribution will impact a child for the rest of their life, and give them an experience of a lifetime.