20th Anniversary Spotlight: Group1001
Over the last 20 years, the Cal Ripken, Sr. Foundation has addressed the needs of at-risk youth across the country using evidence-based youth development programs and parks. This month's spotlight shines a light on our partnership with Group1001 and CEO, Dan Towriss, and the positive impact he has had on the communities we serve over the last five years. 
In 2018, Group1001 partnered with the Ripken Foundation with a matching $5,000,000 commitment to support 10 Ripken Foundation Youth Development Parks across the country. These multipurpose or baseball, synthetic turf fields provide outdoor,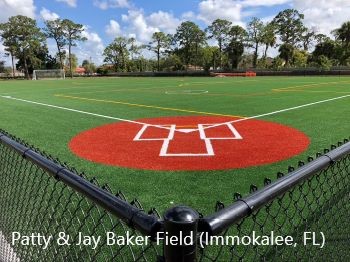 recreational places for kids to engage in sports-themed and life skills programs. Over the last 10 years, the Ripken Foundation has completed 99 parks in 26 states and Washington, D.C. giving over 500,000 kids access to a clean, safe place to play, learn, and grow into healthy, successful adults. As we enter year four of our partnership, our collaboration has resulted in the creation of nine parks with four more in the construction phase. 
"Group1001's generous commitment allowed us to think bigger. Dan and his team just get it. When we approached them about working with us, he immediately understood and wanted to help. We like to say that we can make a difference on our own, but we can really create positive change in a significant way with strong partnerships. Group1001 is certainly a wonderful partner, and we are grateful for their support." said Cal Ripken, Jr.  
 
Today, thanks to Group1001, at-risk youth in need of positive direction have healthy outlets to engage in sports year-round in Immokalee, Florida; Baltimore, Maryland; Charlotte, North Carolina; Austin, Texas; Oklahoma City, Oklahoma; Chicago, Illinois; Fort Wayne, Indiana; Toledo, Ohio; and Washington, D.C. In addition to our parks, Group1001 has supported the Ripken Foundation's youth development programs providing educational and recreational activities in Austin, TX; Long Beach, CA; Salinas, CA; and Indianapolis, IN.
"Dan Towriss and Group1001 have been tremendous supporters of our Youth Development Park initiative across the country. Dan's generosity has impacted the lives of thousands of at-risk youth in underserved communities in need of clean, safe spaces for recreational team sports. We are so grateful for his contributions," said President & CEO of the Cal Ripken, Sr. Foundation, Steve Salem.