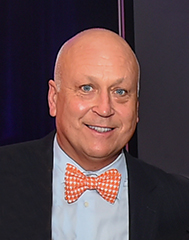 Cal Ripken, Jr.
Vice Chairman
Cal Ripken, Jr. is best known as baseball's all-time Iron Man.  He was inducted into the National Baseball Hall of Fame in 2007 after receiving the third highest vote total in the history of the game. Cal broke Lou Gehrig's major league record of 2,130 consecutive games played in 1995. Three years later, Cal voluntarily ended his own streak after playing 2,632 consecutive games.  He began his major league career in 1981, and quickly set a new standard for big, strong, durable shortstops.  He earned AL Rookie of the Year honors in 1982, won the MVP award in 1983 and 1991, and received a Gold Glove in 1991 and 1992. This perennial All-Star retired from baseball in October 2001 after 21 seasons with the Baltimore Orioles, ending his incredible career with 3,184 hits and 431 home runs while shattering many records along the way.
Today, Cal uses the platform that baseball provided him to help grow the game he loves worldwide. He is Chairman and CEO of Ripken Baseball, which owns and operates several world-class youth baseball facilities as well as a minor league franchise in Maryland.  He serves as a youth ambassador for Major League Baseball and was named an American Envoy to the U.S. State Department, where he has taught baseball to children around the world. He is a bestselling author, and you will find him out on the speaker's tour regularly.
In 2001, Cal and his brother Bill established the Cal Ripken, Sr. Foundation in memory of their father.  Cal, Sr. was a mentor to thousands of young ball players during his career, and while he focused on baseball, was building better and stronger individuals through a series of life lessons now carried on by the teachings of the Cal Ripken, Sr. Foundation.
Cal and his wife, Laura, reside in Annapolis, MD and between them have four grown children: Rachel, Ryan, Madison, and Trey.