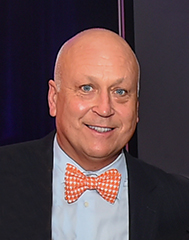 Cal Ripken, Jr.
Vice Chairman
Inducted into the National Baseball Hall of Fame in 2007 with the third highest voting percentage in history, Cal Ripken, Jr. is baseball's all-time Iron Man. Now Cal is using the platform that baseball has provided him to help grow the game he loves worldwide. As owner of Ripken Baseball, he owns one minor league club and three world-class youth baseball facilities. In 2001, Cal and Bill Ripken established the Cal Ripken, Sr. Foundation in memory of their father.
Cal's role as an ambassador for the game was taken to a new level in August 2007, when he was named American Public Diplomacy Envoy by the U.S. State Department. In this role, he has traveled worldwide teaching baseball to children and representing the United States. In 2008, Cal went to Nicaragua with former Orioles teammate Dennis Martinez, to visit with kids in Managua, Leon, and Granada. And in 2011, Cal and former Major League Baseball center fielder with the Baltimore Orioles, Brady Anderson, traveled to Japan as sports diplomats. While in Japan, Cal and Anderson led baseball and softball clinics in Tokyo, Takarazuka, and Kyoto. Currently, Cal has been named as a special senior advisor by Major League Baseball Commissioner Rob Manfred to grow youth playing baseball.
Over the years, Cal has also become a best-selling author. His past works include The Only Way I Know, Play Baseball The Ripken Way (with his brother Bill), Parenting Young Athletes The Ripken Way, Get in the Game: Eight Elements of Perseverance that Make the Difference, and The Longest Season, a children's book. His first novel, Hothead, hit bookstores in 2011 and reached #5 on the New York Times best-seller list. Co-authored with Baltimore Sun columnist Kevin Cowherd, this book was the first in a series of baseball-themed novels for middle school kids. The second book in the series, Super-Sized Slugger, hit the shelves in March 2012 and the third installment in the series, Wild Pitch, was released in March 2013. Cal's newest children's book, Out at Home, was released in March 2015.
Cal resides in Annapolis with his wife, the Honorable Laura Ripken.