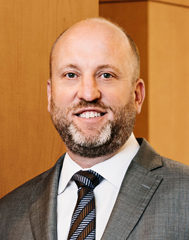 Dan Towriss is CEO of Group One Thousand One. In this role, Towriss serves as President and Chief Executive Officer of Guggenheim Life and Paragon Life and President of Delaware Life (recently acquired by certain Guggenheim shareholders), with combined assets in excess of $52 billion.
 
While at Guggenheim, Towriss has led a number of successful insurance company acquisitions and company restructurings with the goal of improving income and capital levels to create long term viability and job growth. The Guggenheim insurance unit has built an impressive track record on both accounts since its formation in 2009.
 
Towriss is an insurance industry veteran with over 22 years in the life insurance industry.  Prior to joining Guggenheim, Towriss held various executive positions with long-standing insurance enterprises such as Aegon, ING and Lincoln National. Towriss is a credentialed actuary as a Fellow of the Society of Actuaries and a member of the American Academy of Actuaries.