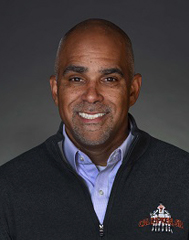 Joe Rossow
Executive Vice President, Programs
Joe Rossow joined the Foundation in November 2016; he will play a critical role in various Ripken Foundation initiatives across the country.  Using his expertise of being a classroom teacher 12 years, Administration for 11 years and Graduate level Certificate in STEM, he will help elevate the Cal Ripken, Sr. Foundation's programming and curriculum.
 "It's an amazing opportunity to be a part of such a respected national organization that allows me to pair my passion for education with helping youth across the country," said Rossow. "I'm looking forward to exploring new avenues to increase our reach and creating opportunities for kids to succeed no matter their circumstances."
Throughout his 23 years of service in education, Joe Rossow has received numerous accolades, including the Minnesota Elementary School Principal Association Division Leadership Achievement Award, as well as Minneapolis Public School Teacher of the Year Award.