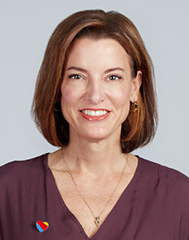 Melanie leads community outreach and engagement efforts in Southwest's northeast markets, St. Louis and Kansas City. She excels in strategic relationship management and creates authentic connections through the cultivation of meaningful partnerships and purposeful investments. Melanie is passionate about spearheading collaborative efforts to accomplish shared, community-driven goals and realize the highest impact outcomes for the greater good.
Prior to joining Southwest, Melanie was an assistant director of development and alumni relations at the University of Texas at Dallas and has had extensive experience in nonprofit and public management, previously holding positions in development, community relations and community outreach at several nonprofit organizations in the Dallas area. Melanie also worked in Washington, D.C. for almost a decade, serving in government relations roles at the American Bankers Association, the National Automobile Dealers Association and the American College of Radiology.
Melanie holds a bachelor's degree in Public Relations and Spanish from Southern Methodist University and a master's degree in Public Affairs from the University of Texas at Dallas. She is married with two children and resides in Plano, Texas.