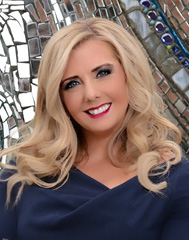 Rachael Lighty, MPS, is the Head of PR for Amazon's HQ2 and also oversees policy PR for Amazon. 
 
An accomplished and award-winning communications and PR professional, Lighty has diverse experience in media relations, publicity, b2b/b2c brand marketing, and crisis and political communications in the U.S., Europe and Asia. With several hundred hours of live and taped broadcast experience, Lighty excels at media and spokesperson training and executive coaching. Her strengths include reputation management, thought leadership, corporate social responsibility and speech writing.
 
She previously served as the Executive Director of External Relations for Laureate International, leading global communications and media relations in the U.S., Europe & Asia. She also served as the lead Spokesperson and Strategic Communications Associate for Baltimore Gas & Electric Company, Maryland's largest energy provider, managing all media relations and crisis communications strategies and tactics. At the Pennsylvania House of Representatives, she managed all communications, media relations, testimony and speeches for 9 members of the House, including the Speaker of the House, Majority Whip, Appropriations Chair and the Judiciary Committee Chairman.
 
Lighty has provided PR consultation for SparkVision, American Heart Association, Young Professionals for Alzheimer's Awareness, a Baltimore-based publishing company, and the Tech Sgt. Dan Zerbe Memorial Foundation. 
 
She previously served as the President of the Baltimore Public Relations Council, a United Way Emerging Leaders United board member, and a member of the Ulman Cancer Fund for Young Adults Board of Young Adult Advisors.
 
As a certified Cause Consultant through Georgetown University's Center for Social Impact, she provides pro bono strategic communications, media relations, digital & social media engagement consultation for The Literacy Lab in D.C.