This summer, law enforcement officers joined us from across the state to mentor youth during the Ripken Summer Camp. The officers came from the Anne Arundel Police Department, Maryland State Police, Maryland Transportation Authority, Baltimore County Police Department, Homeland Security, US Postal Inspection, Prince George's County Police Department, Baltimore Police Department, Baltimore City Sheriff's Office, Bureau of Alcohol, Tobacco, Firearms, and Explosives (ATF), Harford County Sheriff's Office, and US Marshals. 
We were also joined by special guests Ernie Graham, Chris Welsh (Fitness Consultant), Travis Manion Foundation, Johnny Hughes (US Marshals), and Aruna Miller (Lt. Governor elect) to speak to the youth at camp. When asked what message our guest speakers and officers imparted on our youth, Carrie LeBow, Chief Operating Officer of the Cal Ripken, Sr. Foundation, had this to say: "The positive, healthy relationship between police in urban and rural communities and at-risk young people is the beginning of real change in distressed neighborhoods across the country and serves as an early intervention opportunity to shape the personal trajectory and perceptions of youth faced with challenging obstacles to success in life".
Carrie also gave some more insight on our program and why it is so impactful. "The Cal Ripken, Sr. Foundation launched our signature crime prevention and life skills mentoring program in 2006 in collaboration with the U.S. Department of Justice. Today, we partner with over 350 community-based youth organizations, including the Boys & Girls Clubs of Metropolitan Baltimore to impact over 1.2 million at-risk youth in underserved communities each year. Our year-round youth development program transforms communities by engaging kids in a safe, healthy way while teaching them critical life skills like communication, respect, and resiliency which propel them to success on and off the field. Badges for Baseball also helps kids to build trusting, positive relationships with law enforcement officers in their local communities," she explained. 
Campers were given the opportunity to form relationships with officers and learn more about what they do. The campers enjoyed the presentations by the officers each day and loved exploring their vehicles and checking out their equipment.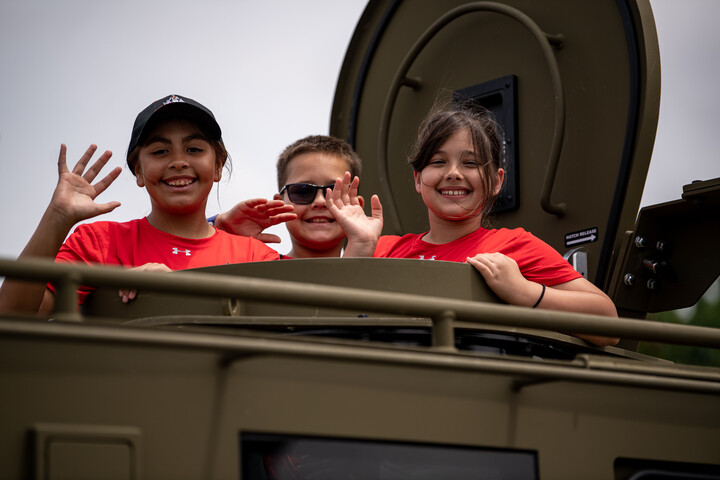 Not only is the Ripken Summer Camp a chance to teach youth critical life skills while interacting positively with law enforcement, but it is also a fun and exciting way to exercise and make new friends. Campers participate in enriching team building activities including swimming, rock climbing, ziplining, and more. Participants also play baseball in a state-of-the-art Ripken Academy ballpark. Thanks to our partners, campers receive a brand-new backpack, baseball cap/visor, baseball glove, uniform shirts, athletic shorts, and baseball pants, socks, and belt when they arrive.
Campers aren't the only ones enjoying camp either, the adults are having just as much fun as the kids. Jazmine Dodson, a Youth Development Coordinator for the Boys & Girls Clubs of Metropolitan Baltimore, talked more about the experience during her time there. She said, "This was such an amazing experience seeing our members play and grow… A lot of the children have never even touched a bat before. It was great seeing their growth and seeing them work together as a team to better themselves. I really loved seeing the girls keep up with the boys even though some of them never even played sports before."
To see more from BGCMB, click here, or more information about our Summer Camp, click here.