In today's Play of the Day, you will use basic engineering principles to build a tower using card materials. You will then test the strength of your tower by adding weight until your tower falls.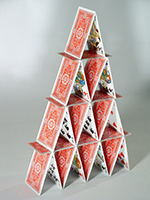 Challenge Guidelines
Materials

Cards—playing cards, index cards, pieces of paper, paper plates, or anything similar (you may only use one type of card)

Weight—pennies, beads, beans, or other small items. 

Timer

Scissors (optional)—to cut or trim the cards as needed (use with caution or with adult supervision!)

Don't Use

Tape, paper clips, staples, or any other type of fastening mechanism 

Objective

To build a tower using card material in 20-minutes or less that can sustain one or more units of weight for at least five seconds. 
Before you Build
What material did you pick to build your tower?
What material will you use to add weight to your tower?
How many units of weight do you predict your tower will hold?
Card Tower Building Instructions
Set your timer for 20-minutes and begin building your tower!
After construction is complete, add one unit of weight at a time to your tower until it collapses. Record how many units of weight your tower held before it collapsed. Your tower must be able to sustain an added unit of weight for at least 5-seconds for that added weight to count. 
Questions
How many items did your tower hold?
What about the construction of your tower made it effective?
How could your tower have been built more effectively?  
Would anything you learned through this activity be useful to engineers designing buildings in the real world? 
Additional Challenge
Rebuild your tower modifying it based on what you learned from your last tower.  
What was different about your second tower? 
Did your second tower hold more weight? Was it taller?
Share a picture of your card tower with us on Facebook, Instagram, and Twitter!