The Ripken Foundation teamed up with Devon Energy, Flogistix, and Marathon Oil to install our first STEM center in North Dakota at Lincoln Elementary. Lincoln Elementary Principal, Tammy Peterson, and Dickinson Public School Superintendent, Marcus Lewton, joined the Foundation in a ribbon cutting on the first day of school. 
The principal at Lincoln Elementary, Tammy Peterson, said that the school had been struggling to integrate a STEM curriculum in the right way, but had been trying to incorporate STEM activities where they could. "This is a great opportunity where we have the tools now so it can become part of our daily teaching with so many opportunities for students. This is their future, and we want to make sure that they're career ready," said Peterson.
The center has been equipped with a 3D printer, Snap Circuits, Bee-Bots and Ozobots. These tools will allow the students to advance their critical thinking and problem-solving skills all while having fun. 
Ripken Foundation STEM Director, Tim Bancells, gave a great example of students using their newly found critical skills to solve a real-world problem for a fellow classmate with a disability.  "He did not have a hand. So, they 3D printed a hand. And their challenge was that they had to make it good enough so he could hold a glass of water. They were actually able to connect it, and he was able to pick up and move the glass," Bancells said. "It was elementary school kids thinking of that and I'm like wow, that's way more than I could think of."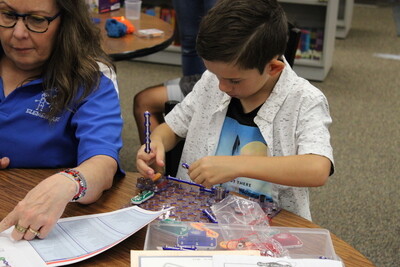 The tools in the STEM center are not only useful in teaching science, technology, engineering, and math, but can actually be utilized by anyone. Marissa Riesinger, the school's Library Media Specialist, said that she plans to use them in her own classroom. "We're tying in a lot of literature and informational texts, using that as purposeful and intentional play within the STEM lab. The possibilities are endless," Reisinger said.
For more information about the Ripken Foundation STEM Centers, click here.