The Ripken Foundation has teamed up with Devon Energy and Flogistix to install three new STEM Centers in El Reno, OK. Rose Witcher Elementary, Lincoln Learning Center, and Leslie F. Roblyer Learning Center (RLC) will all receive state-of-the-art, turnkey STEM Centers fully equipped with STEM education products and activities, like Bee-Bots, a 3D Printer, Ozobots, and more.
The new STEM lab at Roblyer Learning Center was opened to fifth- and sixth-grade students at the ribbon cutting so they can explore all of their new STEM equipment. Jacob, a sixth-grader at RLC and stepson of Flogistix employee Dallas Maddux, was excited to test out the Ozobots he will be utilizing to learn in the STEM lab.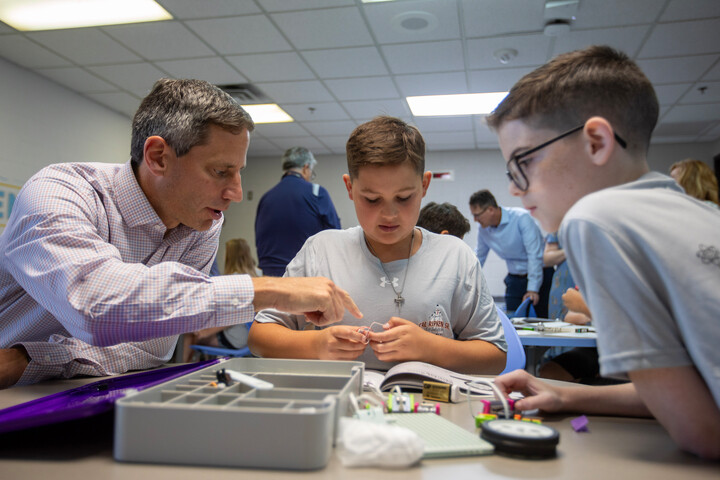 El Reno Public School Superintendent Matt Goucher is looking forward to the implementation of these Centers and is excited to see how they will enhance student learning. "These STEM Centers create a space for students to add context to what they are learning in the classroom," said Goucher. "We are so thankful for the generosity of Flogistix and Devon Energy. Corporate partners who believe in empowering the next generation through education are crucial to our future."   
President and CEO of the Ripken Foundation, Steve Salem, indicated that the Foundation's mission is to provide students a space to learn in an interactive environment. "Ripken Foundation STEM Centers focus on introducing students to STEM concepts in a fun and interactive way," said Salem. "Sometimes students need to be reminded learning is fun! We hope this space encourages students to stretch their imaginations and dream big."
Read more about this partnership in OK Energy Today's article here. To learn more about our STEM Center initiative, click here.