The Ripken Foundation partnered with The Kahlert Foundation to build 29 STEM Centers in Carroll County, with one Center in every elementary and middle school by 2025. This partnership will provide state-of-the-art STEM equipment and furniture that is both fun and engaging for the students. 
"We are thrilled to partner with the Cal Ripken, Sr. Foundation to bring STEM education to the students of Carroll County. This partnership will give students the opportunity to learn and grow in ways they never imagined, and extremely proud to be a part of the program," said Kahlert Foundation President Greg Kahlert. Cal Ripken, Jr. had the opportunity to interact with Carroll County students at the Elmer A. Wolfe Elementary School STEM Center ribbon cutting. He agreed with Kahlert and continued, "I'm so proud of the way that the foundation identified and took on the need to provide STEM centers in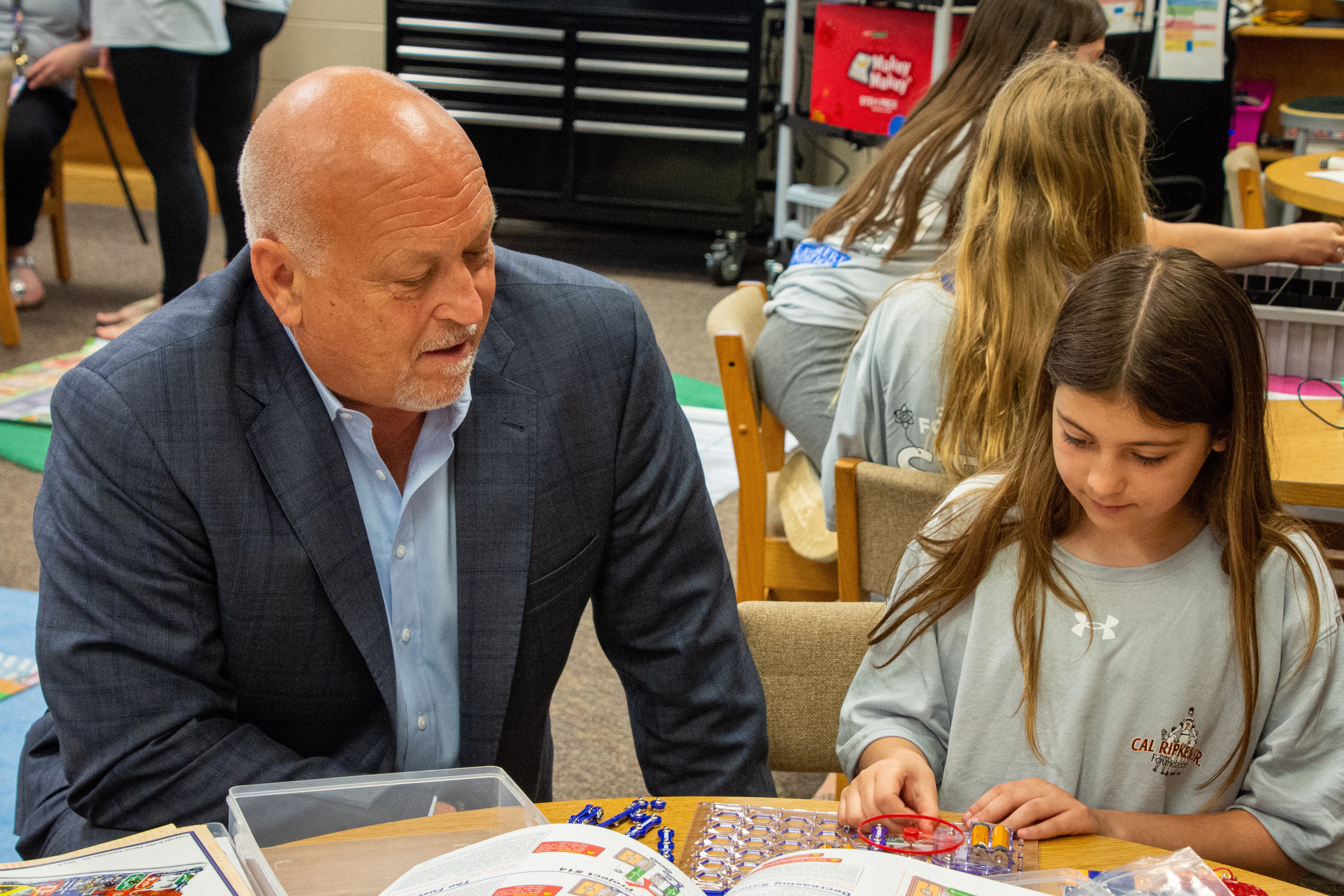 elementary and middle schools around the country. Thanks to partners like the Kahlert Foundation we can have a much greater impact for the students in Carroll County and we continue to look for ways to replicate this terrific model throughout Maryland and nationwide."
Mount Airy Middle, North Carroll Middle, Northwest Middle, Oklahoma Road Middle, Sykesville Middle, West Middle, Elmer Wolfe Elementary, Robert Moton Elementary, and Taneytown Elementary Schools will have STEM centers installed in March. The remaining schools will be installed within the next two years.
"It's going to be so beneficial for the hands-on opportunities students will have," Director of Curriculum and Instruction Steve Wernick said. "It really links that real-world connection and understanding for students to bring concepts into the forefront and have that real-world experience while using them."
Each STEM Center can be customized for different schools/curricula and will be installed with the needs and space of each school in mind. Each Center will be equipped with a 3D printer. Snap Circuits and six Chromebooks.
"It's such a wonderful thing what the Kahlert Foundation is doing for us and for the kids in the community," said Ripken Foundation President and CEO Steve Salem. He continued, "The impact, honestly, is immeasurable. Kids will have opportunities in their future that they couldn't imagine prior to getting into STEM." Kahlert Foundation Executive Director Ellen Finnerty Myers echoed this statement, saying, "We felt that the marriage and partnership between the Cal Ripken, Sr. Foundation and the Kahlert Foundation to bring STEM to as many kids in elementary and middle school as we possibly could was a great way of investing in our community."
To date, the Ripken Foundation has installed 305 Centers in 20 states across the U.S, including 11 district-wide public school systems, impacting nearly 100,000 kids with the help of over 2,000 teachers/educators/mentors.
Read more about our partnership with the Kahlert Foundation in a article by WMAR 2 News here. Learn more about our STEM initiative on our website here.