Ripken Foundation Teams Up with Permian Strategic Partnership to Install 134 New STEM Centers in the Permian Basin
By Lily Baughan
October 19, 2022
This month's feature story highlights one of the partnerships that have transformed the Cal Ripken, Sr. Foundation's STEM Center program.  We have made great strides in spreading STEM education to underserved youth, thanks to a generous commitment from the  Permian Strategic Partnership (PSP), led by CEO and Ripken Foundation Board member, Tracee Bentley. We will install 134, fully equipped elementary school STEM Centers  located in the Permian Basin throughout Texas and New Mexico. Over the next five years, Foundation staff will be training teachers to use their new educational STEM products and the Ripken Foundation STEM curriculum to bring experiential STEM learning to over 60,000 youth who are currently not enrolled in a STEM program. Each STEM Center is stocked with STEM learning tools, like a 3D printer, Bee-Bots, Ozobots, and Snap Circuits. 
PSP's commitment to this region is going to have an incredible impact in the Permian Basin. Midland Independent Sch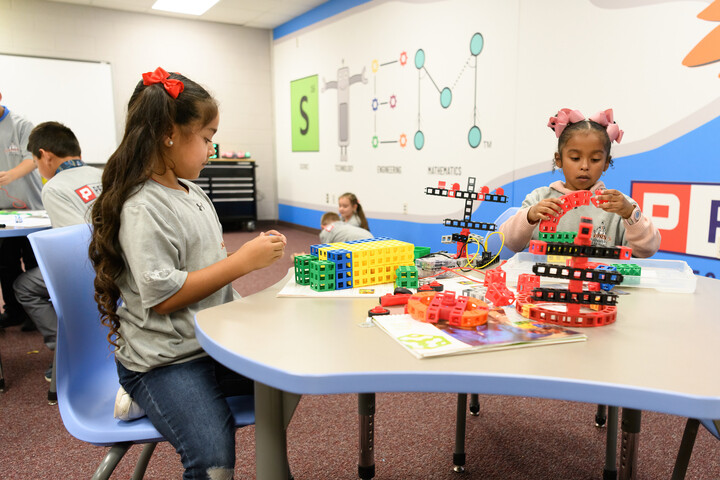 ool District Deputy Superintendent Kregg Cuellar sums it up best, "The future definitely is rooted in science, tech, engineering, and mathematics. To think that we are going to have every elementary student in all of our 27 schools have access to 21st century STEM engaging activities in a curriculum is truly going to open up the door for our students like you would not believe." Pease Elementary Principal, Micah Arrott, echoed this sentiment. "The opportunities that these kids are going to have that they were not going to have otherwise is amazing. Being able to collaborate with others, problem solve, engage in the work, be creative; all of those things we did not have. A lot of people did this for us, so from the bottom of our hearts, 600 little hearts, I want to thank PSP and the Ripken Foundation because without this opportunity these kids would not have this," said Arrott. 
When asked about the impactful commitment, Bentley stated, "This investment in STEM Centers allows PSP to have a positive impact on education across the entire Permian Basin and have a touchpoint with every school district. With a STEM Center in each elementary school, we hope to inspire young learners to explore careers in STEM fields, teach STEM concepts, and encourage them to develop the critical-thinking and problem-solving skills needed for lifelong success." She continued at the Pease Elementary STEM Center ribbon cutting, stating, "Thanks to this collaboration, we can bring world-class instruction and educational resources to the students of the Permian Basin. Through project-based learning, students can apply what they are learning in the classroom to real-world problems. It will not only teach them problem-solving skills, but also to help them grow in learning, teamwork, successful communication, creativity, leadership, and entrepreneurship." 
Cal Ripken, Jr. also weighed in about the impact of teaming up with Permian Strategic Partnership, stating, "At the Foundation we always say that you could do some good on your own, but you can do great things with special partners. The Permian Strategic Partnership is a terrific partner with us, and we are grateful for their tremendous support. 134 schools in the Permian Basin receiving state-of-the-art STEM Centers is exciting and will make such a difference in these communities. STEM has become an integral part of our work and we will only continue to do more in this space working with dedicated organizations like PSP." 
Today's careers require STEM skills at all levels of employment and furthermore, there is an urgent national priority to transform STEM learning and engagement to meet the nation's need for a STEM-skilled workforce. Due to this partnership, these STEM Centers will be serving over 60,000 students and more than 2,000 teachers in 22 counties across the Permian Basin. That is 60,000 more kids that will be prepared to enter a workforce growing with STEM opportunities. "We are thrilled to bring STEM education to all youth in the Permian Basin," said Steve Salem, Cal Ripken, Sr. Foundation CEO & President. "Thanks to our partnership with the Permian Strategic Partnership, we can train and educate both teachers and students on new technologies that will leave a permanent and positive impact on the community." 
Learn more about our STEM Centers with Permian Strategic Partnership here.