Friday, February 11th was a big day in Texas! In partnership with Devon Energy, the Cal Ripken, Sr. Foundation opened two Ripken STEM Centers at Hunt and Yorktown Elementary Schools. Teachers spent the day learning best practices to engage their students in the hands-on STEM learning opportunities and then introduced the new products to their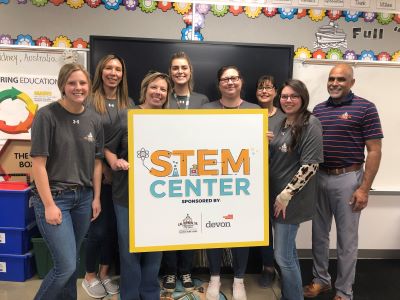 students. The Ripken Foundation and Devon Energy were joined by the Mayor, Superintendent, principals, teachers, and students for the grand openings.

Ripken STEM Centers gives students in underserved communities the opportunity to participate in Science, Technology, Engineering, and Math programs. The goal of the STEM Centers is to provide access to at-risk youth who would otherwise never learn about STEM. Engaging kids at an early age will prepare them to start thinking about education attainment and their future career paths in STEM fields.

To date, the Ripken Foundation, in partnership with Devon Energy and other generous corporate partners, have opened 147 Ripken STEM Centers in 16 states. We are incredibly thankful for the continued partnership with Devon Energy to provide students with such amazing opportunities.