Farewell to our friend, Brig Owens
On Tuesday evening the world lost a truly great man; one who will be missed beyond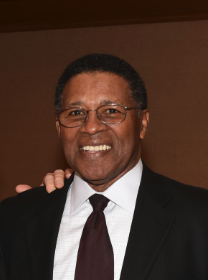 words, and by so many.  Brig Owens was the kindest most humble man you could ever meet.  Considering his amazing accomplishments on the football field as a Washington Redskin, and his even more remarkable life off the football field, if anyone had the right to brag a little it was Brig.  But he never did.  Pulling stories out of him was not always easy, but once you did it was mesmerizing.
With much effort, friends were able to learn of Brig's California childhood.  One of thirteen children.  His home was where Disneyland stands today. But what a contrast -- he grew up poor, on dirt floors. He plowed fields walking behind his mule, named "Sir."  He loved to tell people about "Sir." But Brig was a great athlete in high school, and the young man could run like no other.  He set every record in high school and later became the first black quarterback at the University of Cincinnati.  He was drafted by the Cowboys but quickly traded by Tex Schramm to the Redskins, as Brig would tell us, because he was viewed as an activist when he boycotted a local business because of racist behavior.  So, it was off to the Redskins in 1966, where Brig would become an NFL star.  He was quickly named a defensive captain by head coach Vince Lombardi, who loved Brig.  Even Vince Lombardi loved Brig! The day he was named captain, Lombardi called him in.  Brig brought his playbook with him because he thought he was being cut. Humility!  Men like Jesse Owens, Hank Aaron and so many others, sought HIS friendship.  There was no family relationship with Jesse Owens, but he told people Brig was his nephew! 
Brig should be in the NFL Hall of Fame, and it is their loss that he is not. Brig didn't worry about it very much.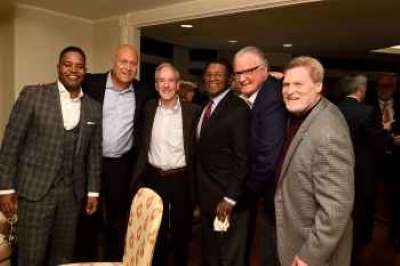 He'd just say, "maybe someday."  He was too busy helping others to worry about something so trivial. He cared deeply about kids growing up in troubled circumstances and over time helped thousands of kids get through high school, go to college, and lead productive lives. He received an honorary doctorate from the University of Cincinnati, earned his law degree, and was a successful businessman.  
Gene Upshaw and Brig Owens were the ones who ramped up the NFLPA from the beginning, and together founded Super Leaders, a youth leadership program that survived 30 years and served 30,000 teens.
But what he cared most about was his family.  Oh, how he would brag about that family! 
To be Brig's friend was to be in Brig's Army, and that was a wonderful place to be. 
We will miss you Brig.