20th Anniversary Spotlight: Patty & Jay Baker
Our 20th anniversary spotlight wouldn't be complete without recognizing one of our most respected Board members and past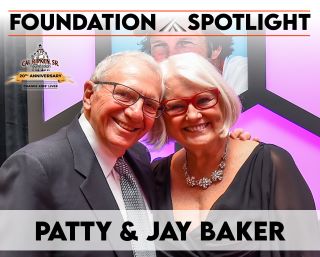 chairman, Jay Baker, co-founder of national retail chain Kohl's Department Stores. He and wife, Patty, have been instrumental in the substantial growth of the Foundation over the last 15 years contributing nearly $10 million to further the mission and support underserved kids and communities. 
"Jay and Patty set the gold standard for Board participation and their financial generosity is unmatched. Jay's leadership on the Board and as past Chairman is iconic. He is a consummate professional – sharply analytical, direct and candid but always supportive, and visionary," said current Ripken Foundation Board chairman, Harold Himmelman. "Jay sets targets for us to reach in service to our kids that stretch us but are within our capabilities, and he takes no credit for the successes we enjoy. We are extraordinarily fortunate to have Jay and Patty Baker as our models and as such integral parts of the Ripken Foundation's operations and aspirations," noted Harold.
One of Jay's most significant contributions as a past Board chairman was setting a goal of reaching and impacting one million at-risk youth each year through our programs and Youth Development Parks. Today, thanks to his vision, the Foundation impacts over 1.2 million kids in 41 states and Washington, D.C. "Jay and Patty have been so much more than donors to the Foundation, they are friends and mentors. They have guided us to new heights and because of their leadership, we are positively impacting so many underserved kids nationwide and building great fields for them to go to after school. Without the Bakers we would not be as effective of an organization and we are grateful for their ongoing support and passion for helping others in need," contributed Cal Ripken, Jr., co-founder of the Ripken Foundation. 
As one the first corporate leaders to join the Ripken Foundation Board, Jay was an inspiration and mentor to many. "Jay brought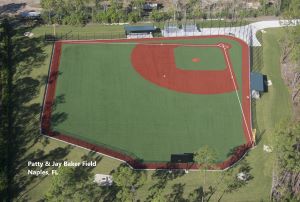 business principles to the chairmanship and helped us look at things from a multi-billion-dollar corporate perspective," recalled Steve Salem, Ripken Foundation President and CEO. By 2016, the Foundation had accomplished impacting one million kids, a big milestone set in motion by Jay's leadership. "The Foundation wouldn't be close to where we are today without the Bakers. The entire Baker family have become supporters of the Foundation and many of Jay and Patty's friends became wonderful supporters of the Foundation because of their commitment," Steve continued. 
Jay and Patty remain dedicated to the Foundation as they continue to give of their time, resources, and support for new programs and parks. "Jay and Patty Baker have been enormously supportive of the Youth Development Park initiative from the very beginning. They have sponsored over 30 fields across the country, including Baker Field in Naples, FL and the Patty & Jay Baker Field in Immokalee, FL. They are also one of the lead sponsors of our 100th field at Reedbird Park in Baltimore City that will be completed later this year," said Ripken Board member Senator Frank Kelly, Jr. "Jay and Patty are truly leaving a long-lasting legacy of helping underserved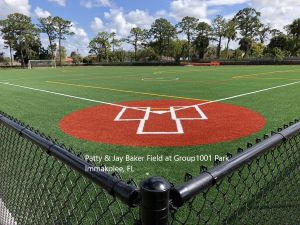 kids and transforming communities in need all across the country. It has been my privilege to become one of their many friends," revealed Senator Kelly.
Robbie Callaway, founding Board member and longtime friend of the Foundation, summed up Jay and Patty's legacy to the Foundation perfectly, "Patty and Jay really put their heart and soul into everything they do, and they put their pocketbooks behind it. In the history of this Foundation, they will always have a statue in our Hall of Fame."