2021 Foundation Spotlight: STEM Partners
Our 20th anniversary allows us to look back and reflect on some of the major milestones, programs, and partners who have helped to shape the Foundation into a national organization impacting over 1.2 million underserved kids each year. In this month's spotlight, we would like to highlight the Ripken Foundation STEM partners and thank them for the success of this rapidly expanding program.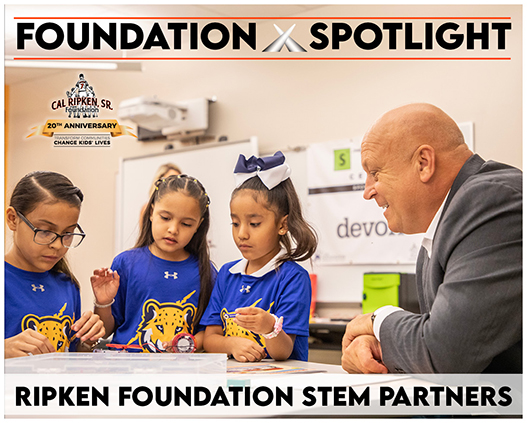 Launched in 2016 to give kids in elementary and middle school access to STEM opportunities in at-risk communities, today the Foundation has 71 fully operational, turnkey STEM programs that include curriculum and activity kits in California, Connecticut, Florida, Georgia, Maryland, Minnesota, New Mexico, North Carolina, Oklahoma, Pennsylvania, Texas, Virginia, Washington, and Wyoming, as well as a district-wide public school system that includes 33 elementary schools in Oklahoma City, thanks to the Foundation for Oklahoma City Public Schools, Devon Energy, the Chase Foundation, the Yates Foundation, Conoco Phillips, EOG, and Home Depot. Our goal is to develop ways to help at-risk youth gain access and have fun with STEM tools and resources which will enhance their ability to be successful adults in this technology-driven world.
Devon Energy has been huge supporters of our STEM presence in Oklahoma and New Mexico. "Providing students in our operating areas with access to vital educational resources remains a top priority, especially in challenging times," said Christina Rehkop, Director of Community Relations. "Devon Energy believes that together with the Ripken Foundation, we're ensuring students in southeast New Mexico and Oklahoma City are on-pace with their peers and set up for success when learning returns to the classroom."
Our STEM program can be implemented easily in any community and requires no set space which gives kids the opportunity to participate in science, technology, engineering, and math learning. We provide a full-service STEM package that can go in any school or afterschool program across the country and includes the following components:
Equipment Packages: six Notebooks, Chromebooks or laptop computers and a 3D printer.
STEM Tool Kits with different educational activities within STEM. Contents will vary based on age group of recipient.
Curriculum Guidebook with easy-to-use lessons for teachers or youth mentors to implement a fun and educational STEM program, thanks to the V&S Foundation and Battelle.
Training by the Ripken Foundation staff provides ongoing program and technical support for all STEM Center partners. We have also developed individual training videos for each STEM activity product, thanks to Devon Energy.
Furniture package for each school or youth organization creates a mobile STEM space that may include: one mobile workbench, seven elemental clover tables, and 28 stackable chairs.
STEM Challenge, our national competition uses real-world problems to encourage students to apply STEM skills and knowledge to develop innovative solutions, thanks to Battelle and Southwest Airlines. Teams from our STEM Centers across the country compete by presenting their solutions to a panel of judges.
During the COVID-19 pandemic, we distributed over 10,000 At-Home STEM activities to our program participants across the country to keep kids engaged and learning within the safety of their own homes. In 2020, with the support of so many dedicated corporate sponsors and donors, including our national corporate partner, Niagara, our STEM programs impacted 32,000 youth with the help of over 1,300 mentors.
At home in Baltimore, we appreciate the support of The Whiting-Turner Contracting Company, Stewart & Tate, Inc., Pat Tracy, and Lewis Contractors that allowed us to create mobile STEM Centers in four elementary and six middle schools in Baltimore City. "I have always been a firm believer in the power of STEM education to transform students into true, lifelong learners.  Regardless of what career path they ultimately choose learners who are equipped with science, technology, engineering, and mathematics skills more often than not exhibit a genuine curiosity about the world around them: and with that, a greater interest in—and service to—the communities in which they live.  For this reason, we were delighted to partner with the Ripken Foundation to install four elementary and middle school STEM Centers in Baltimore City, with a particular focus towards at-risk youth," explained Tyler Tate, President of Lewis Contractors.
Other early STEM sponsors that have supported the growth of our national STEM program in Maryland, Pennsylvania, Georgia, and Florida, include: the Truist Foundation, the Schwab Family, Amazon, and Naples Children & Education Foundation.  If you are interested in installing a Ripken Foundation STEM Center in a local community in need, please contact Travis Punt, tpunt@ripkenfoundation.org for more information.