2021 Foundation Spotlight: Frank Kelly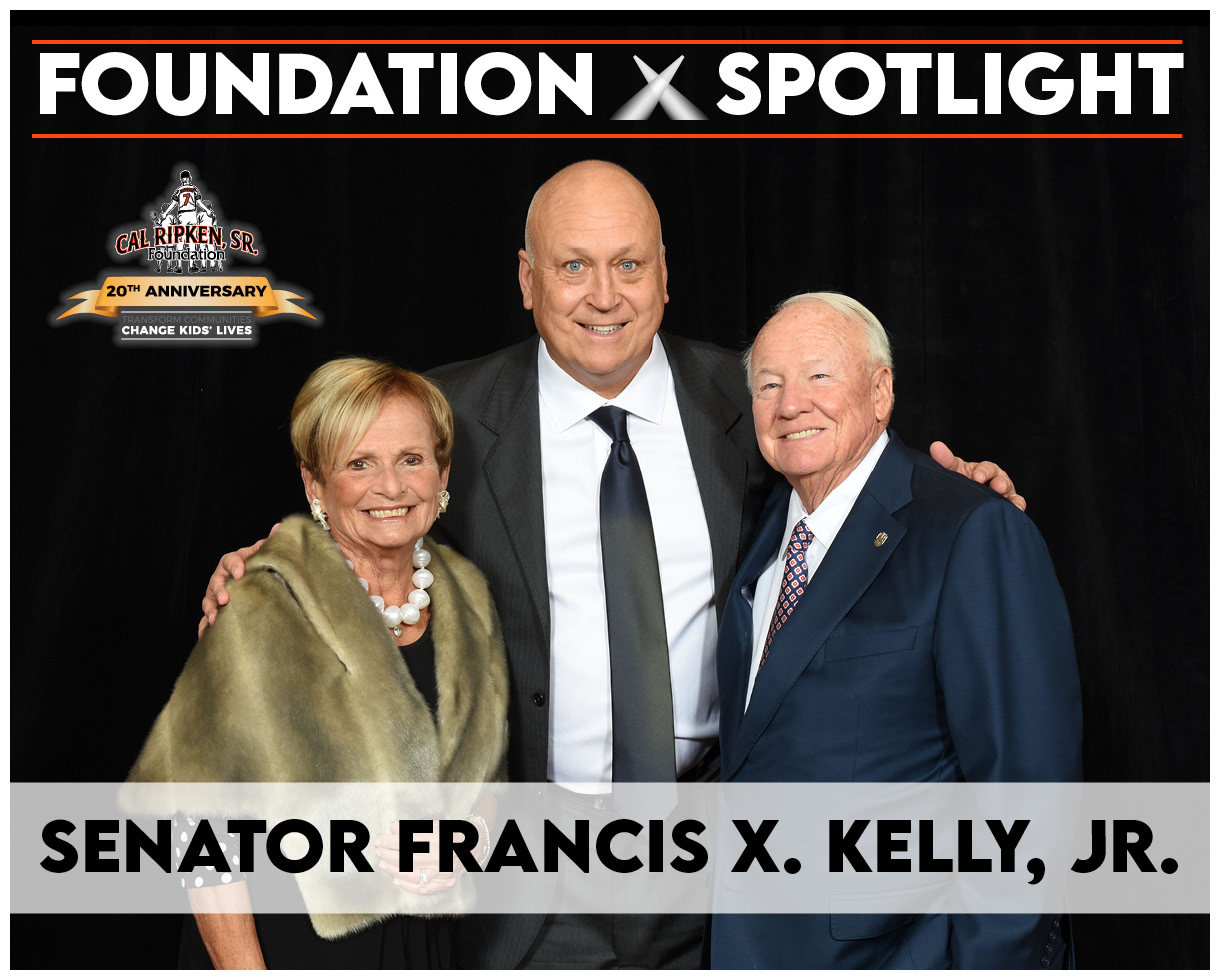 To commemorate our 20th Anniversary, each month we will recognize special friends who have helped the Cal Ripken, Sr. Foundation grow and develop into the national nonprofit that it is today. Our first spotlight highlights the contributions of our former Ripken Foundation Board chairman and long-time Board member, The Honorable Francis X. Kelly, Jr. 
The Ripken Foundation recently sat down with Senator Kelly to learn how he got involved with the Foundation. Shortly after a chance meeting at the 2001 Super Bowl in Tampa, Florida, Senator Kelly and Cal Ripken, Jr. began an almost 20-year friendship. After their brief encounter, Senator Kelly received a personal letter from Cal asking to meet for lunch. "We hit it off right away. The lunch started at 12pm and we talked until nearly 5pm. Cal didn't want anything from me or ask for anything. He told me, 'Frank, when I was in baseball for 21 years, I met a lot of people, and every once in a while, I would meet somebody that I wanted to get to know better when I finished playing.' He said that I was one of those people," Senator Kelly recalled. "That was one of the greatest compliments I ever got." 
As their friendship grew, so did Senator Kelly's participation in the Cal Ripken, Sr. Foundation. In 2004, Cal asked Senator Kelly and his wife, Janet, to chair the Ripken Foundation's second annual gala. He made some bold decisions, which helped propel the Foundation to success in the early days. "I decided to price the gala tables at $25,000 per table. I thought everyone was going to have a heart attack, but we raised close to a million dollars that year." 
In the first few years of the Foundation, Senator Kelly and the Ripken Board made a few key decisions that transformed the organization. "In the beginning, there were only a few Board members, including Roger Ralph, Vi and Billy Ripken, and Lonnie Ritzer. Then came Robbie Callaway and the hiring of president and CEO Steve Salem. They were incredible additions." He continued, "Steve has done a phenomenal job with the Foundation. Best decision we ever made was hiring him."
Senator Kelly remains an integral part of the Foundation's growth. In 2008, the Foundation's Youth Development Park initiative was created from a conversation with MBNA founder Charlie Cawley, who suggested that donors needed something more substantial to give to. He said he would like to see something he could "put his arms around." That is how the idea of building synthetic surface fields was born. "We were at a party at the home of fellow Board member Jay Baker and I said to the group, 'We're going to build 50 fields in the next five years.' I didn't discuss it with anyone prior to making that statement. I think Cal and the team were a little surprised, but I've learned you never get anywhere unless you set big goals. We announced the 50-field goal at the next gala." From that moment, there was an explosion of support to build clean green spaces in underserved communities; everyone wanted a field. Fifty fields were built in five years. Then, Senator Kelly set another goal of an additional 50 fields in the next five years, which was also achieved. He notes, "None of it would have been possible without Steve Salem and his fantastic team."  
The Foundation will be celebrating its 100th Youth Development Park to be completed in Baltimore's Cherry Hill community later in 2021. "It's been so amazing to see these fields and the tremendous impact they are having on so many young lives," Kelly remarked. Senator Kelly and his family have supported many of the 16 Youth Development Parks built in Maryland, including a much-needed multipurpose field in the Park Heights neighborhood, appropriately named Kelly Field. Senator Kelly is currently chairing the 100th Field and Ripken Foundation's Endowment Campaign, so we can continue to do more good things for kids and communities in need. "We are so profoundly grateful for Frank's commitment to the Foundation. He has been an active and engaged partner from the beginning. We simply wouldn't be where we are today without him," says Steve Salem, president and CEO of the Cal Ripken, Sr. Foundation.
Guided by a deep commitment to his community; his family, including 21 grandchildren; and his faith; Senator Kelly has carved a history of public service, business success, and civic involvement. In 1976, he and Janet founded Kelly & Associates Insurance Group in their basement, which has grown to become one of the nation's largest employee benefit administrators, brokers, consultants, and payroll providers. Today, their four sons Frank III, John, David, and Bryan oversee the organization and its subsidiaries and divisions. 
In addition to his business, in 1979, Senator Kelly was elected to represent the citizens of northern Baltimore County. His three terms, or 12 years, in the Maryland State Senate were defined by leadership, effectiveness, and compassion. In 1984, he led legislative efforts to privatize the University of Maryland Medical System, which now includes 13 hospitals in Maryland. In addition, he was a long-time legislative leader for the R Adams Cowley Shock Trauma Center and led the efforts to build the initial shock trauma center now located at the University of Maryland Medical Center. In 1988, he and others led legislation to create the University System of Maryland, which made College Park the flagship campus and created definitive roles for the 13 other state colleges and universities. Senator Kelly was instrumental in the creation of the Maryland Stadium Authority, which amongst its many accomplishments was responsible for building Oriole Park and Ravens Stadium. Senator Kelly's leading role in the creation of the Maryland Spending Affordability Committee has saved state taxpayers billions of dollars since its creation.
Senator Kelly has earned countless honors and recognition including being recognized as one of the top 100 Irish business leaders in the United States by Irish America magazine. In 2016, he was named an inaugural inductee in the Baltimore Sun's Maryland Business and Civic Hall of Fame and was the 2006 recipient of the Community Service Award from the Fellowship of Christian Athletes. Senator Kelly was also recently inducted into the Monsignor Bonner High School Hall of Fame.
We are exceptionally grateful to Senator Kelly's continued commitment to the Ripken Foundation. To learn more about Senator Kelly, you can order a copy of his recently published memoir, Surrender to Win: The Story of The Honorable Francis X. Kelly Jr., at https://www.amazon.com/dp/B08KQ7W637/ref=cm_sw_r_em_api_glc_i_gdm9FbJM24JZC